QUICK & EASY PASTA RECIPES
20 MINUTES
ADDITIONAL PASTA RECIPES
OLIVE OIL BASED PASTA DISHES
HINTS ON QUICK AND EASY PASTA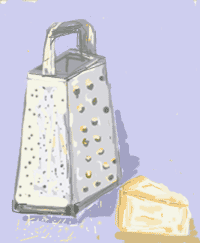 BUTTER OR CHEESE BASED PASTA DISHES
If you have garlic and olive oil in the kitchen, you're on your way to quick and easy pasta! Take a big frying pan, peel the garlic and saute until golden in the olive oil, add some hot pepper if you wish, pour the cooked pasta into the frying pan (let the oil cool a bit),a pinch of salt and a turn of ground black black pepper, a sprinkling of parsley - your meal is ready.
To this basic recipe you can add anchovy, canned tuna, tomato, almost anything you have in the house - simple additions that transform the basic dish.
Or try the dairy based sauces - you can start by melting some butter in your frying pan and pouring cooked fettucine into it. Salt and pepper, and you have a dish you can enjoy, or add to: cream, parmesan cheese, salmon, arugula.



Copyright © 2000,2012 e-rcps.com, All Rights Reserved