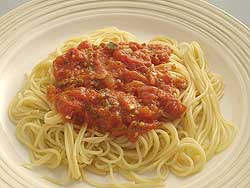 TOMATO SAUCE WITH OREGANO RECIPE
Salsa pomodoro alla pizzaiola
Naples - Campagna
Preparation - Simple
Prep:

10 min

- Cook:

30 min

- Total:

40 min


Yield:

Serves 4




Vegetarian
'Pizzaiola' is any sauce in which oregano plays a major part - 'pizzaiola' because the sauce tastes like pizza topping. Here we have added meat to the basic tomato sauce.
INGREDIENTS:
1/4 to 1/2 pound ground beef, veal or pork
2 cloves garlic, sliced
1 small tin (15oz) tomatoes
1 tsp dried oregano or 2 tsp fresh, chopped
sprig of fresh Italian parsley
3 TBSP good olive oil
1 pound pasta

Pasta pot, frying pan or skillet.
METHOD:
SET 6 quarts of water in a large pot to boil for the pasta.
BROWN the meat in 1 T of the olive. When cooked, set the meat to one side and pour off the grease from the skillet.
ADD remaining 2 T olive oil and sauté the garlic in the until golden.
ADD the tomatoes (peeled and seeded if you are using fresh) and cook until reduced.
ADD 2 T of kosher salt to the pasta water, return it to the boil, and cook the pasta 8 - 12 minutes.
ADD the the oregano and parsley to the sauce, salt and pepper to taste. Add the meat, cook for another 5 minutes on low heat.
DRAIN the cooked pasta. Pour a little of your sauce into the bottom of the service bowl and add the pasta.
ADD the remainder of the sauce, stir well, and serve. Serve it with cheese if you like, but taste it first.
AMAZON BEST SELLER



Copyright © 2000,2012 e-rcps.com, All Rights Reserved