Recipes
Quick & Easy
Pasta
Appetizers
Soups
Main Courses
Salads
Pasta Salads
Risottos
Recipes by Region
Mideast Recipes

Basics
Ingredients
Utensils
Cheeses
Wine

Glossary

FAQ

Cookbooks

Tell a friend



Cooking Classes
Cooking classes in the U.S. and Italy.

---

Gastronomy Tours
Tour Wine & Olive oil country and other regions.
---

Links
Links to other sites of related interest.
---

Sources
Where to buy special ingredients and utensils.
---

Ask the Chef
If you don't find your recipe.
---
PASTA RECIPES LISTED BY REGION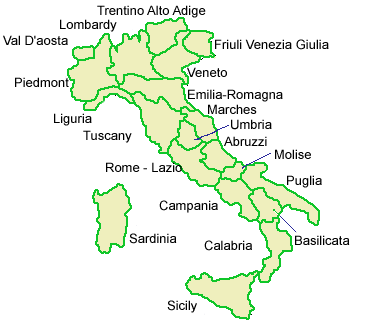 Recipes listed by region - of course there is a lot of overlap, and many dishes are claimed by competing regions. The richness and variety of Italian cooking in fact offer enough for everyone.
Emilia Romagna -Emilia Romagna

Copyright © 2000,2012 e-rcps.com, All Rights Reserved