Recipes
Quick & Easy
Pasta
Appetizers
Soups
Main Courses
Salads
Pasta Salads
Risottos
Recipes by Region
Mideast Recipes

Basics
Ingredients
Utensils
Cheeses
Wine

Glossary

FAQ

Cookbooks

Tell a friend



Cooking Classes
Cooking classes in the U.S. and Italy.

---

Gastronomy Tours
Tour Wine & Olive oil country and other regions.
---

Links
Links to other sites of related interest.
---

Sources
Where to buy special ingredients and utensils.
---

Ask the Chef
If you don't find your recipe.
---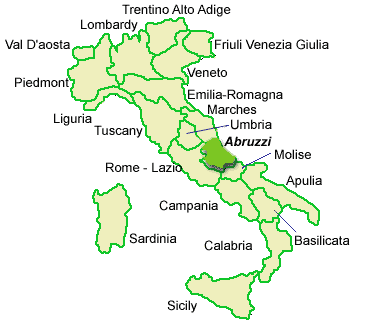 RECIPES FROM THE ABRUZZI REGION

The large area of central Italy extending east of the Apennines from the high peak of the Gran Sasso in the north to the Apulian plain in the south. There is also a long coastal strip where the mountains drop down to the sea. For administrative purposes it is divided into two regions, but historically and geographically Abruzzo and Molise are always considered as one. Although situated between northern and southern Italy, their cooking belongs to the south and consists of two distinct cuisines: the coastal one based on fish and that of the mountainous inland based on pork and, to a minor extent, on sheep and poultry.
Soups
Pastas
Other


Copyright © 2000,2012 e-rcps.com, All Rights Reserved