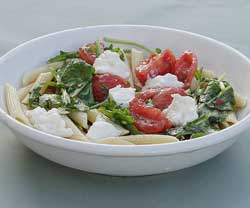 PASTA CAPRESE, WITH RAW TOMATOES, BASIL AND MOZZARELLA
Pasta caprese
Naples - Campania
Preparation - Easy
Prep: 1:15 (to allow mixture to marinate)
Serves 4
Vegetarian
If you love tomatoes and have good mozzarella, this delicious dish adapted from a Capri recipe is for you. Use garlic or not - best if you can let the ingredients marinate for at least an hour before you serve the dish.

INGREDIENTS:

1 1/2 lbs fresh, *ripe* tomatoes, coarsely chopped
8 oz fresh mozzarella cheese cut into 1/2 inch cubes (optional)
4 TBS extra virgin olive oil, the best you can get
1 tsp red wine vinegar
1/2 cup fresh basil leaves, washed, dried and shredded
salt and freshly ground black pepperto taste
1 lb pasta, preferably penne (spaghetti will do)
1 - 2 cloves garlic (optional), chopped fine
a bit of hot pepper - peperoncino - (optional)

Pasta pot, large serving bowl
AN hour or so before your meal, using a wooden spoon, mix the mozzarella, tomatoes, oil and vinegar (optional garlic and/or hot pepper)in a deep bowl.

SEASON to taste with salt and freshly ground black pepper.

COVER with a clean dishcloth and let it sit at room temperature for an hour or so to let the flavors permeate.

COOK the pasta, remove when al dente, with a bite to it.

DRAIN the pasta and return to the warm pasta pot.

ADD the basil to the tomato mixture, toss well and pour the tomato mixture onto the pasta. Mix well.

CHECK again for seasoning, pour into serving bowl and serve.



Copyright © 2000,2012 e-rcps.com, All Rights Reserved