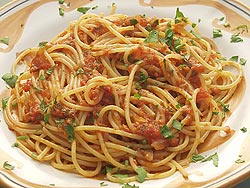 EASY, TASTY MARINARA SAUCE RECIPE
Preparation - easy
Prep:

10 min

- Cook:

35 min

- Total:

45 min


Yield:

Serves 4




Vegetarian, Vegan
This quick and easy tomato sauce is delicious as is, but you can easily add sautéed zucchini or other vegetables, cooked hamburger, etc. The method we use derives from the origin of marinara sauce on pizza, where the ingredients cook together on top of the pizza in the pizza oven.
INGREDIENTS:
1 28 oz can (3 1/2 cups) tomatoes (Italian plum are best)or equivalent amount of fresh tomatoes, if you are lucky enough to have them
3 tablespoons tomato paste
4 tablespoons chopped fresh flatleaf (Italian) parsley
2 clove garlic, finely chopped (more to taste)
1 teaspoon dried oregano
1/2 tsp hot pepper flakes (optional)
1 teaspoon salt
freshly ground black pepper to taste
3 tablespoons good olive oil
1 package pasta of choice: spaghetti, spaghettini, etc.

UTENSILS: blender or food processor, skillet, pasta pot.
METHOD:
IN a blender or food processor combine tomatoes, tomato paste, 2 TBSP chopped parsley, finely chopped garlic, oregano, optional pepper flakes, salt, and pepper and process until smooth.
IN a large pot, set the pasta water to boil.
HEAT olive oil to a large skillet over medium heat, ADD blended sauce.
SIMMER for 30 minutes, stirring occasionally and reducing heat if necessary.
GARNISH with remaining chopped parsley, SERVE with grated Parmesan cheese.
SAUCE will hold 3 days in refrigerator; freezes well.



Copyright © 2000,2012 e-rcps.com, All Rights Reserved