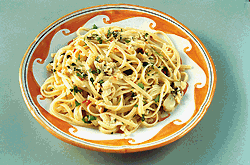 LINGUINE WITH CLAMS
Linguine alle vongole
Preparation - Medium
Serves 4
An American favorite.
INGREDIENTS:
2 T butter
2 T olive oil
3 cloves garlic
2 6 oz cans minced clams, drained - or a dozen fresh clams, shelled and minced
1/4 t oregano
2 T (or more, to taste) finely chopped parsley
1 lb. linguine
5 qts salted water (1 - 2 T coarse salt)

Large frying pan large enough to hold pasta and all ingredients, pasta pot, sieve.
METHOD:
MELT butter in saucepan. Add oil.
WHEN hot, saute garlic and clams in hot oil mixture over medium heat for 2 to 3 minutes.
STIR in parsley, oregano, salt, and pepper.
SIMMER 5-10 minutes.
BRING salted pasta water to boil and cook linguine until al dente or to taste (usually 8 - 10 minutes).
DRAIN well. Pour pasta into saucepan with sauce, mix well.
IN Italy, this dish is not normally served with Parmesan cheese - but suite yourself!
Lo Chef



Copyright © 2000,2012 e-rcps.com, All Rights Reserved