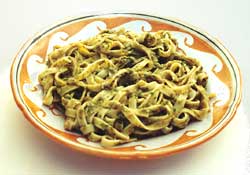 TAGLIATELLE WITH LENTILS, PARSLEY AND GARLIC
Tagliatelle con le lentiche
Preparation - Easy
Serves 6
Vegetarian, Q&E with canned or pre-prepared lentils.
Use canned lentils or prepare your own dry lentils, which are tastier. Dry lentils are usually found in your market's rice and beans section. Rinse them off in a sieve, place in pot, cover with water, stir, bring to a boil, lower flame and simmer till tender, 25 -30 minutes. You can do this ahead of time and refrigerate or freeze.
INGREDIENTS:
2 15oz cans lentils or 1 cup dry lentils, cooked
3 T olive oil
1 large garlic clove, peeled, or to taste
5 T fresh parsley
salt and freshly ground black pepper
1 lb tagliatelle or fettuccine

Food processor, saucepan, pasta pot, strainer.
METHOD:
While pasta cooks, heat lentils.
If cooking dry lentils reserve 1/2 cup cooking liquid.
Place lentils, 2 tablespoons lentil liquid, garlic, 4 T parsley, olive oil and seasoning in food processor.
Puree till smooth but with texture.
Test for seasoning.
Drain pasta when done.
Place in warm bowl and add the pureed lentil mixture. If you find it too dry add a little more liquid from the lentils or the pasta cooking water.
Toss well and serve immediately.
Garnish with some chopped parsley if you wish.



Copyright © 2000,2012 e-rcps.com, All Rights Reserved