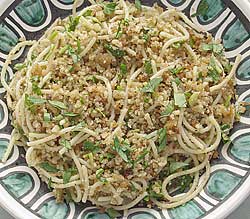 PASTA WITH ANCHOVY AND BREADCRUMBS
Pasta Ammuddicata
Calabria-Basilicata (Lucania)
Prep & Cook: 25 min - Easy
Serves 4

INGREDIENTS:
1 2oz can flat anchovies packed in oil, drain and chopped
6 T extra virgin olive oil
2 cups breadcrumbs, toasted
1/2 peperoncino or 1/4 t chili pepper flakes, more or less to taste
1 lb thick spaghetti (spaghettoni ), bucatini or perciatelli
salt to taste (sparingly, depending on the anchovies)

Small frying pan, large frying pan, pasta pot.
HEAT 3 T olive oil in a small pan and lightly toast breadcrumbs stirring to prevent burning.

REMOVE breadcrumbs, place in bowl, keep warm and set aside.

IN a large skillet or pan heat the rest of the olive oil.

ADD the peperoncino or flakes.

SAUTÉ for a minute.

ADD the anchovy, crushing with a fork into a paste.

MEANWHILE cook the pasta.

WHEN the pasta is done, drain, reserving some of the pasta water. Transfer to a warm bowl.

POUR sauce over pasta and toss well.

IF too dry for your taste add a tablespoon or two of the pasta cooking water to further moisten the pasta.

SPRINKLE breadcrumbs onto individual servings at table.








Copyright © 2000,2012 e-rcps.com, All Rights Reserved