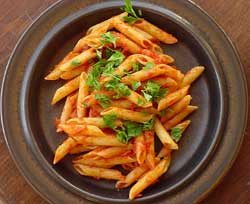 PENNE ARRABBIATA SAUCE WITH TOMATOES,

HOT CHILIES AND GARLIC
Penne all'arrabbiata.
Rome - Lazio
Preparation - Easy
Prep:

10 min


Cook:

25 min


Total:

35 min


Yield:

Serves 4




Vegetarian, Q&E
This pasta along with all'Amatriciana and their variations are favorites in Roman trattorias. All'Amatriciana , with little pieces of cured pork in the sauce, comes from the Abruzzese town of Amatrice. So do many of the hosts of the old Roman trattorias, osterias, and tavole calde, where Romans take their meals, and so all'Amatriciana has become a Roman style of pasta. Penne all'arrabbiata, without the cured pork, simply means "enraged pasta," referring to the heat of the peppers.

Control the heat of the dish by using more or less hot red pepper.
INGREDIENTS:
1/4 cup extra-virgin olive oil
3 large garlic cloves, minced
1 28 oz can Italian tomatoes with their juice, chopped or 1 1/2 lb fresh tomatoes.
1 or 2 dried hot red chilies, broken into pieces, or 1 t hot red pepper flakes to taste
Salt to taste
1 lb penne or other short thick round pasta
2 TBSP chopped parsley for garnish
6 quarts water

Pasta pot, saucepan or skillet (we use a large non-stick wok) large enough to fit all ingredients.
METHOD:
HEAT the oil in a heavy saucepan over medium-high heat and sauté the garlic, stirring constantly, until it is just beginning to turn golden

- about 6 minutes.
ADD the tomatoes and chilies, reduce the heat to medium-low, and continue cooking until the tomatoes are soft and the sauce is dense but not pureed - about 20 minutes with canned tomatoes.
REMOVE from the heat and taste for seasoning, adding more salt if necessary.
DRAIN thoroughly, turn into a warm serving bowl, and pour the sauce over it, mix well, or finish in pan by draining pasta, adding to cooked ingredients, stirring well.
SERVE immediately.
Adapted from::
The Mediterranean Diet Cookbook
Nancy Harmon Jenkins
Bantam Books



Copyright © 2000,2012 e-rcps.com, All Rights Reserved