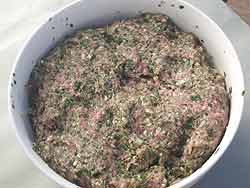 KOFTA or KAFTA RECIPE
Kofta; Kofta bi sannieh
Lebanon
 +Lo Chef.
Prep:

20 min

; Cook:

20 min

; Total Time:

40 min


Yield:

Serves 6
This mixture is great on skewers over charcoal, as patties, or as the Lebanese dish Kofta bi sanniyeh, baked in the oven with potatoes and tomatoes.
INGREDIENTS:
2 1/2 lbs finely ground lamb or beef
2 cups tighly packed washed and picked parsley
1/2 cup fresh mint leaves or 1 TBS dry mint leaves
1 large onion, cut up for food processor
1 tsp bhar helou or 1/4 each ground cinammon, cloves, nutmeg
1 tsp salt, more to taste
1/2 tsp ground black pepper, or to taste

Food processor, mixing bowl, baking pan if doing in oven, or wood or metal skewers.
METHOD:
IN a food processor, chop onion extremely fine. Add parsely and mint and until you have a fine - not liquified - homogeneous mixture.
PUT the meat in a large mixing bowl, add all ingredients and spices to meat, combine and mix thoroughly with your hands.
PLACE bowl in fridge covered with plastic wrap. Helps flavors of the mixture blend.
FOR SKEWERS:SOAK wooden skewers (usually found at your local supermarket) in water for a couple of hours or more.
SHAPE egg-sized balls of kofta and work evenly onto skewers. Grill over medium charcoal fire until light brown.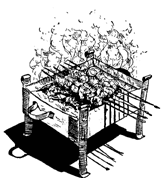 Lebanese Cookbook:

Copyright © 2000,2012 e-rcps.com, All Rights Reserved