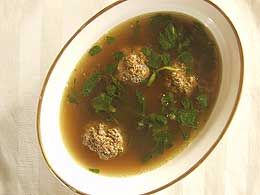 ITALIAN WEDDING SOUP
ITALIAN WEDDING SOUP WITH MEATBALLS AND SPINACH RECIPE
Zuppa maritata
Naples - Campania
Preparation - Medium
Prep:

25 min

- Cook:

1 hour 20 min

- Total:

1 hour 45 min


Yield:

Serves 4 - 6
Our version of a traditional recipe. *See also Italian Wedding Soup II, with meatballs, chicken and endive.
INGREDIENTS:
For the meatballs:
1/2 lb ground beef
1/2 lb ground veal, pork or turkey
1/4 cup bread crumbs (commercial, or grate your own from stale Italian bread)
1 egg
1 T parsley, finely chopped
1/2 clove garlic, minced (optional)
1/2 tsp paprika (optional)
1/2 tsp salt and pepper to taste
For the soup:
4 cups chicken broth
2 cups spinach, chopped
1/4 cup grated Pecorino Romano cheese
OPTIONAL: Orzo - small grains of pasta shaped like barley.

Large soup pot, baking sheet.
METHOD:
COMBINE the ground meat, bread crumbs, egg, parsley, minced garlic and salt and pepper in mixing bowl. Mix well with a fork and form into tiny meat balls

(shown are about the size of a golf ball, but traditional meatballs are a bit smaller) with your hands.
PLACE meatballs on a greased baking sheet and bake for about 25 minutes at 350F, until brown. (See ALTERNATE, below)
ABOUT ten minutes before serving, bring the chicken broth to a boil, add the spinach and cook until tender. Add the meatballs and return soup to a simmer. Stir in the Pecorino cheese and serve.
ALTERNATE: you can sauté the meatballs in olive oil until brown and procede with step 3 (above), or bring your chicken stock to a low boil, add the uncooked meatballs, simmer for about 25 minutes, add the spinach, cook until tender, stir in the cheese and serve.
AMAZON BEST SELLER



Copyright © 2000,2012 e-rcps.com, All Rights Reserved