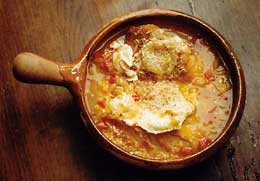 COOKED WATER
Acquacotta
Tuscany
Preparation - Easy
Serves 4
See also: Acqua Cotta II

Acquacotta means 'cooked water' in Italian and this simple dish has as many variations as there are people who serve it. (two portions shown)
1 medium onion, thinly sliced
2 + 4 (optional) TBSP extra virgin olive oil
1 medium tomato, diced
1 stalk celery, with leaves, chopped fine
1 quart water
1 leaf basil (some recipes call for 'wild mint' instead)
4 thick slices of stale bread, preferably French or Italian bread - can be toasted
4 fresh eggs at room temperature (optional)
salt and pepper to taste
grated Parmesan or pecorino cheese

Large, heavy saucepan.
IN a heavy saucepan large enough to accommodate the soup, on low/medium heat, sauté the sliced onion in the two tablespoons of olive oil until soft and transparent - golden but not browned.

ADD the diced tomato and continue sautéing on low heat until soft and combined with onion.

ADD 1 quart of water, the chopped stalk of celery, the basil, salt to taste. Cover and cook at very low simmer for an hour.

ABOUT five minutes before serving, crack the eggs into a separate bowl and add to the broth. They should cook until the whites are firm, the yellows liquid, about 5 minutes. You can spoon hot soup over the eggs to speed the cooking process.

PLACE one slice of the bread (best toasted) in each warmed serving bowl.

TASTE soup for seasoning, add salt and pepper if needed, then pour the soup into the bowls, one egg and one T olive oil (optional) in each bowl.

SERVE with ample grated cheese.



Copyright © 2000,2012 e-rcps.com, All Rights Reserved