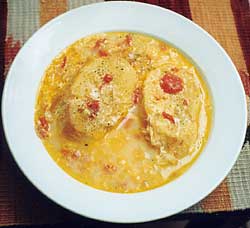 'COOKED WATER' - A LIGHT VEGETABLE SOUP
Acquacotta
Tuscany
Preparation - Easy, but pay attention!
Serves 4

See also: Acqua Cotta I

A soup often prepared in the Tuscan countryside. Each cook has his/her version of it using the same ingredients in different quantities and the best olive oil available. This is another inventive use for day or two old bread. This version beats the egg with the cheese before adding to the soup.
1/3 cup olive oil
1 large onion, very thinly sliced or chopped
2 celery stalk with leaves, thinly sliced
1 garlic clove, peeled and sliced
1 lb fresh tomatoes, peeled and chopped, or 1 14 - 16 oz can chopped tomatoes
fresh thyme, oregano or sage to taste (optional)
salt and freshly ground pepper
4 fresh eggs
4 T freshly grated Parmesan or pecorino cheese
8 thick slices of white bread, slightly stale

Heavy saucepan.
HEAT the oil in a heavy saucepan. Add the onion and celery and sauté over medium/low heat till transparent; 5 -7 minutes, stirring frequently. Do not let onions brown.

RAISE heat slightly, add garlic and tomatoes and an herb if using one cooking for 5 minutes more. Stir occasionally.

MEANWHILE bring 5 to 6 cups of water to a boil.

ADD to the tomato mixture, season with salt and pepper and cook about 1/2 an hour.

TASTE for seasoning.

TOAST the bread.

IN a separate bowl, beat the eggs lightly with the cheese.

REMOVE saucepan from heat and immediately beat in the egg and cheese mixture.

PUT the bread in preheated individual soup bowls and ladle on the soup.

GARNISH with an herb if you wish.

PASS a bowl of grated cheese at table.



Copyright © 2000,2012 e-rcps.com, All Rights Reserved