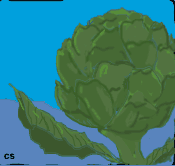 ARTICHOKE, BLACK OLIVES AND RICOTTA SAUCE
Pasta con carcioffi e olive nere
Preparation - Medium
Serves 4
INGREDIENTS:
1 package frozen artichoke hearts, drained and cut in eighths, or 6 canned artichoke bottoms thinly sliced
4 T extra virgin olive oil
3 cloves of garlic, crushed with the flat of your chef's knife
1/2 cup salt-cured black olives, pitted and chopped - do not use ripe olives
1 T fresh oregano or thyme, 1/4 t dried
1/2 cup ricotta cheese, broken up with a fork
1 lb pasta, such as rigatoni, farfalle or any flat pasta
6 quarts water

Large, covered saucepan, pasta pot, wooden spoon.
COOK pasta.

AS pasta cooks heat the olive oil in a saucepan and lightly brown the garlic over low heat.

STIR in the artichoke hearts, olives and the oregano or thyme with a wooden spoon.

COVER and cook over very low heat for 5 minutes. If sauce seems too dry add a teaspoon or two of the liquid in which the pasta cooks.

SALT to taste.

LASTLY, add the ricotta stirring continuously with a wooden spoon until heated through.

DRAIN the pasta and place in warm serving bowl.

ADD the sauce and a generous grinding of black pepper.

MIX well and serve.



Copyright © 2000,2012 e-rcps.com, All Rights Reserved