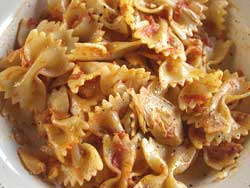 ARTICHOKES WITH TOMATO SAUCE
Preparation: Easy, Q&E
Serves 4 as a main course
Quick and delicious meal - make sure you have all the ingredients to hand when you start.

INGREDIENTS:
1 teaspoon olive oil
2 cups halved cherry tomatoes
1/2 cup thinly sliced pitted kalamata (black) olives (optional)
1 (14-ounce) can quartered artichoke hearts, drained
4 cups hot cooked ziti (short tube-shaped pasta)
1/2 cup shredded fresh basil
1/3 cup (1 1/4 ounces) coarsley grated Asiago, Pecorino or Parmesan cheese
1/4 teaspoon salt
freshly ground black pepper to taste
1/4 lb (or 1/4 package) or 1 ample cup farfalle, penne or pasta of choice per person - whole package for 4.

Pasta pot, non-stick skillet large enough to hold all ingredients.
HEAT oil in skillet over medium-high heat.

ADD cherry tomatoes, olives, and artichokes; cook 5 minutes or until thoroughly heated.

PLACE pasta in a large bowl. Add tomato mixture, basil, cheese, salt, and freshly ground pepper; toss well.




Copyright © 2000,2012 e-rcps.com, All Rights Reserved