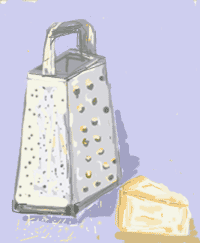 SPINACH AND CHEESE DUMPLINGS
Malfatti
Lombardy
Preparation - Medium-difficult
Serves 4

Malfatti, badly made or ill-shaped, because these "gnocchi" are made of the filling for a ravioli, and therefore not enclosed and defined by the dough. Delicious nonetheless, delicate in flavor. Serve with a mixture of melted butter and Parmesan cheese, or a very light creamy tomato sauce.
INGREDIENTS:
4 lbs fresh spinach, washed with stems removed
2 cups ricotta cheese, mashed
2 eggs
1 cup grated Parmesan cheese
Salt and pepper
1/4 t nutmeg
1/2 cup flour
5 T butter, melted
Water

Large, covered pot to steam spinach, mixing bowl, slotted spoon.
METHOD:
Steam the spinach in a covered saucepan. The water clinging to the leaves is sufficient to cook the spinach stirring occasionally with a wooden spoon until very tender. Add a few drops of water if needed.Place in a sieve and drain thoroughly. Use your hands to remove us much moisture as possible from the spinach.
Place on paper towel, dryness essential to the success of the malfatti.
Once satisfied that the spinach is dry enough, chop very fine.
Place ricotta in a large bowl and mash with a fork or potato ricer.
Stir in the eggs, nutmeg, salt, pepper to taste, 1/2 a cup of Parmesan and finally the spinach combining all thoroughly.
Form into small balls about the size of a walnut.Place flour on a flat surface and roll the malfatti till covered.
Meanwhile bring a pot of water to the boil.
Lower heat so that water is at a bare simmer, bubbling very lightly.
Carefully drop a few malfatti in at a time.Remove as soon as they rise to the surface, which they will do very quickly.
Remove with a slotted spoon and place in a lightly buttered dish or casserole placed in a warm oven with the door open so they do not continue to cook.
Pour the melted butter over the malfatti and sprinkle with the rest of the Parmesan.
Serve immediately.
NOTE: Can also be served with a simple tomato sauce to which you have added 1/2 a cup of heavy cream.
Cookbook we like:



Copyright © 2000,2012 e-rcps.com, All Rights Reserved