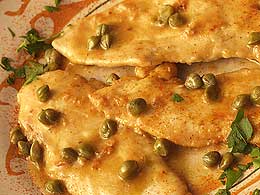 CHICKEN PICCATA RECIPE
Prep:

10 min

- Cook:

10 min

- Total:

20 min


Easy
Yield:

Serves 4


 +Lo Chef.
Delicious quick and easy chicken piccata recipe.
INGREDIENTS:
2 Boneless chicken breasts at room temperature sliced in half or 3 slices, or placed between sheets of plastic wrap and pounded to desired thickness
2 TBS Butter
1 TBS Olive OIl
1/4 cup flour
3/4 tsp paprika
3/4 - 1 cup dry white wine
3 TBS lemon juice
Salt
Freshly ground pepper (white or black) to taste
1 TBS Butter (for sauce at finish)
3 TBS capers

Chef's knive; platter for dredging; sauté pan.


METHOD:
RINSE chicken breasts under cold running water, drain, put on paper towel. Pat dry.
SLICE or pound the chicken breasts to desired thickness 1/8 - 1/4" thick. Unlike veal, chicken is better cut than pounded thin.
MIX flour, paprika, salt and pepper
DREDGE chicken in flour.

HEAT butter and olive oil in sauté pan over medium heat; be careful not to burn the butter, if using it. Add chicken breasts - do not crowd the pan.

Sauté for about two minutes per side. REMOVE to a warm platter; you can place platter in warm oven.
ADD lemon and wine to pan; DEGLAZE (Dissolve the remaining bits of food) the pan using a wooden spoon or spatula to scrape. This is the basis for your sauce.
BRING to a simmer, reduce heat to medium-low, let sauce thicken.
WHEN sauce is thickened, swirl in butter. Add capers.
POUR pan juices over chicken. Serve.



Copyright © 2000,2012 e-rcps.com, All Rights Reserved
Recipes
Basics
Glossary
FAQ
Cookbooks
Tell a friend
Cooking Classes
Cooking classes in the U.S. and Italy.
---
Gastronomy Tours
Tour Wine & Olive oil country and other regions.
---
Links
Links to other sites of related interest.
---
Sources
Where to buy special ingredients and utensils.
---
Ask the Chef
If you don't find your recipe.
---