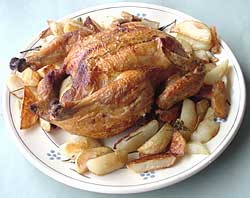 OVEN ROASTED CHICKEN AND POTATOES
Pollo arrosto alla Christina
Preparation: Easy
Prep:

25 min

- Cook:

1 hour 30 min

- Total:

2 hour


Yield:

Serves 4
One of our favorites, easy to cook, easy to eat, especially the crispy potatoes. The chicken and potatoes are cooked separately to better control browning and doneness.
INGREDIENTS:
1 3 - 4 lb whole chicken (preferably free-range, tastier and have much less fat)
5 garlic cloves

1 lemon, quartered

3 - 4 inch sprig rosemary (optional) or

2 bay leaves (optional)

Salt and freshly ground black pepper

2 lbs. red-skinned potatoes (peeled and sliced)

3 T Extra virgin olive oil

2 roasting pans, standard knives, potato peeler, skewers to close chicken.
METHOD:
Preheat oven to 450 deg. F.
CHICKEN
Wash chicken under cold running water. Pat dry.
Place lemon, rosemary or bay leaf and 3 whole unpeeled garlic cloves in cavity along with salt and pepper.
Close chicken cavity.
Peel 2 garlic cloves. Slice in half.
Lift skin off breast and slip garlic under skin.
Season the surface of the chicken with salt and pepper.
Place in roasting pan along with 3-4 tablespoons of water.
POTATOES (use second pan for potatoes, easier to toss them during baking for even browning, not absorb chicken fat from roasting chicken, and control doneness separate from chicken. In villages, where this dish would be taken to the local bakery for cooking, everything was in one pan. )
Peel potatoes and slice in 1 1/2-2 inch thick pieces.
Dry off on kitchen or paper towel.
Place 3 T olive oil in a second roasting pan.
Place in oven.
When hot, remove.
Add potatoes, shake well to cover with the hot oil.
Sprinkle with salt.
COOKING
Place both pans, chicken and potatoes, in 450 deg. oven.
Cook for 1/2 hour.
Reduce heat to 375 deg. F.
Remove potatoes and toss occasionally for even browning. Potatoes may be done before chicken.
Check chicken occasionally making sure drippings are not burning. Rotate chicken 180 degrees. If liquid in pan dries up add a few more tablespoons of water.
Cook for another hour or till chicken cooked through. Test with a thermometer or by placing a fork in the joint of the thigh, if juice runs clear chicken is cooked
Remove from oven allowing chicken to rest 10 minutes before serving.
Note:
If potatoes have been removed earlier, return potatoes to hot oven for a few minutes before serving. Combine and serve on warm platter.
Adapted From:
Gastronomy of Italy
Anna Del Conte
Prentice Hall Press



Copyright © 2000,2012 e-rcps.com, All Rights Reserved