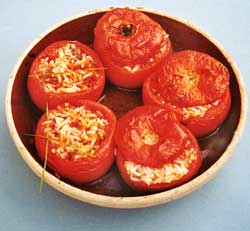 TOMATOES STUFFED WITH RICE, BASIL AND MINT
Pomodori ripieni di riso
Preparation - Easy
Prep: 15 - Cook: 45
Serves 4
Vegetarian, Vegan
A delicious accompaniment when tomatoes are in season.
INGREDIENTS:
4 ripe beef tomatoes (round seems to work best)
1/2 cup long-grain rice
1 T chopped chives
1 T chopped mint
1 T chopped basil
salt and freshly ground black pepper
2 T olive oil

Mixing bowl, oven-proof dish.
METHOD:
Preheat oven to 400 F.
Cut the tops of the tomatoes to form lids.
Without breaking the tomatoes scoop out the insides (reserve) with a teaspoon or serrated grapefruit spoon.
Wash the rice and then mix it with the chopped herbs, salt, pepper and the chopped insides of the tomatoes.
Add to this mixture the olive oil and then fill the tomato shells.
They should be only three quarters full, as the uncooked rice has to have room to expand.
Put on the lids, place in an oven-proof dish and bake in the oven, basting occasionally with the juices, until the rice has absorbed all the liquid - approximately 45 minutes.



Copyright © 2000,2012 e-rcps.com, All Rights Reserved