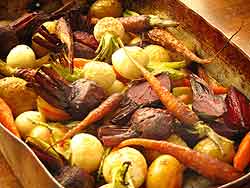 OVEN ROASTED ROOT VEGETABLES
Vegan, Vegetarian
Prep:20, Cook:45
Preparation - Easy
Serves 4-6
Takes time, but unexpectedly delicious!
INGREDIENTS:
12 very small whole white turnips (also know as Japanese turnips)
8 small beets, cut in halves or quarters if not small enough
12 tender young carrots, orange and/or red
14 tiny potatoes, fingerlings or other about a 1lb
3 TBS olive oil
1 tsp Salt
Freshly ground black pepper

9 X 12 X 3 Roasting pan, hot pad, oven gloves
METHOD:
ARRANGE rack in center (middle) of oven.
TURN oven on to 450 degrees.
CLEAN all vegetables thoroughly, cut off stems or leaves leaving about 1 1/2 inches of stem attached. (you can do this well ahead of time allowing vegetables to dry).
DO NOT peel.
PLACE 2 TBS olive oil in roasting pan.
PLACE roasting pan in oven till oil hot.
REMOVE carefully to heating pad and add vegetables.
SPRINKLE with a tsp of salt and freshly ground black pepper.
SHAKE pan well to coat vegetable with the hot oil.
PLACE on rack in hot oven.
ROAST for 20 minutes or so.
REMOVE to work surface.
ADD 1 TBS or more olive oil.
SHAKE again.
RETURN to oven.
COOK a further 15 minutes or until vegetable is tender, test with a fork.
REMOVE and serve.
I prepared this dish a few hours ahead.
When ready to serve I first placed the roasting pan on burner on top of stove for a few minutes shaking to get hot.
Then into hot oven for five minutes to reheat.
Cookbook we like:



Copyright © 2000,2012 e-rcps.com, All Rights Reserved