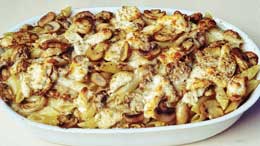 BAKED PENNE WITH MUSHROOMS AND CHEESES
Pasticcio di penne alla valdostana
Valle d'Aosta
Preparation - Medium
Serves 4 - 5
INGREDIENTS:
1 lb mushrooms, cleaned and thinly sliced
1 garlic clove, peeled, whole
4 T butter
salt and freshly ground black pepper
10 oz penne (about 2 1/2 cups dry pasta) - you can also use mostaccioi, ziti, etc.
3 oz Bel Paese cheese, thinly sliced or cubed - or any creamy, mild cheese (Havarti, Fontina)
1/3 cup freshly grated Parmesan cheese
3/4 cup heavy cream or half and half

Sauté pan, oven-proof baking dish.
METHOD:
SAUTÉ the mushrooms with the whole garlic clove in 2 tablespoons of the butter over a high heat.
ADD salt and pepper, lower the heat and cook for 3 minutes.
DISCARD the garlic.
COOK the pasta as usual.
DRAIN and dress with the remaining butter.
BUTTER an ovenproof dish and cover the bottom with a layer of penne.
DISTRIBUTE about a quarter of the mushrooms and the sliced cheese evenly over the pasta and sprinkle with 1 tablespoon of Parmesan.
ADD another layer of pasta and cover with mushrooms and cheese as before.
REPEAT until you have used all the ingredients, finishing with a layer of sliced cheeses.
POUR over the cream, sprinkle with salt and pepper and bake, covered with foil, in a preheated oven at 400 deg. F. for 10 minutes.
BAKE uncovered for a further 10 minutes, or until a light crust has formed on the top.
REMOVE from oven and allow to rest for 5 minutes before serving.
Adapted from:



Copyright © 2000,2012 e-rcps.com, All Rights Reserved