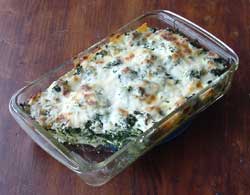 BASIC LASAGNA - MEAT SAUCE - SPINACH - RICOTTA
Lasagne al forno
Preparation - Medium
Serves 4 - 6
Making lasagna (lasagna is the name for one sheet of the pasta - lasagne is the plural) may appear difficult, but is easy if you move step by step. This recipe is for a 3 layer lasagna in a 6 1/2 " X 11" by 2" square, straight sided baking dish. If you use a different sized baking dish, measure the dish, figure out how many sheets of lasagna you will need per layer, how many layers (usually 3) to get the number of sheets.
Before you 'assemble' the lasagna, the ingredients must be ready: the ragu prepared or the spinach cooked and drained (as dry as possible), the béchamel sauce prepared, and the pasta cooked and drained.
INGREDIENTS:
8 3" X 7" lasagna sheets (We have had good luck with deCecco pasta)
2 cups of filling: ragu' ,vegetable ragu' or (2 lbs) cooked drained spinach
2 cups béchamel sauce
salt and black pepper
ricotta cheese (if making spinach lasagna)
3 1/2 oz of grated Parmesan or pecorino cheese
butter for dabbing
olive oil or butter to grease baking dish

Mixing bowl, 6 1/2" X 11" by 2", straight sided baking dish (ideally)
METHOD:
COOK the sheets of pasta in abundant boiling salted water, stirring occasionally to make sure that the sheets don't stick together. When cooked (8 - 12 minutes, soft but not soggy, resistant to the bite, not crunchy), remove with wooden tongs or the handle of a wooden spoon and set to drain by laying on a dish towel.





PREPARE your filling, ragu, vegetable ragu, spinach. The spinach must be thoroughly drained. This can be done ahead.
PREPARE your béchamel sauce.
PREHEAT you oven to 400 degrees Fahrenheit.
COAT the baking dish with olive oil or butter.
LAY down a layer of pasta, letting the sheets overlap very slightly, 1/4".
SPREAD a layer of filling, then some bêchamel sauce, then another layer of pasta. You may sprinkle with cheese if you wish.
CONTINUE alternating pasta with filling with bêchamel. Top layer finishes with filling and bêchamel. Dot with butter and sprinkle the remaining grated cheese over the top.
PUT the dish into 400-degree oven to brown, 30 - 40 minutes. The lasagna is finished when the top is flecked with brown.



Copyright © 2000,2012 e-rcps.com, All Rights Reserved