SPAGHETTI WITH CLAMS AND TOMATO SAUCE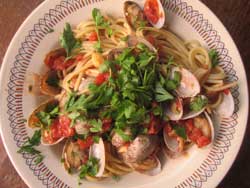 Spaghetti alle vongole con pomodoro
Naples - Campania
Preparation - Medium
Serves 4
Spaghetti with clam sauce is a mainstay of trattorias and restaurants in Naples and Rome, and is prepared in rosso or in bianco, with or without tomatoes. This version is in rosso - with tomatoes.
Vongole are small clams, so you will need the smallest clams you can find. You can serve this dish either with the clams in or out of their shell. I prefer to serve them in the shell. The sound as you toss it, so reminiscent of waves breaking on pebbles at the sea. If a clam is too heavy, or if it is open, discard. Discard as well the clams that do not open when cooked. If you want to shell the clams, rinse them thoroughly, and place in a bowl of water for an hour or so. They will drink up some of the water and release more liquid and when steamed open.
To shell, place in a pan over high heat until they open, a few minutes. Remove them as they open, to prevent them from turning rubbery. Shaking the pan seems to help them along. As soon as they are cool enough to handle remove meat from the shell. Save the liquid they released and strain if necessary.
Mussels may be substituted for clams. Obviously, the taste is not the same.
2 lbs clams in their shell (the smallest you can get), steamers seem to work quite well
1 14 oz can plum tomatoes, finely chopped
4 (or more) cloves of garlic, peeled and chopped
3 T olive oil
2 T freshly parsley, chopped
salt and freshly ground black pepper
1 lb spaghetti, spaghettini or linguini
6 quarts water

In a large pan or skillet, heat the oil over medium heat.
Add the garlic, sauté till golden.
Add the tomato and most of the parsley, simmer, stirring occasionally. Cook till sauce thickens, 10 to 15 minutes.
Salt and pepper to taste.

When sauce is ready add the unshelled clams and raise the heat to high. Continue cooking, shaking the pan occasionally to keep sauce from sticking or burning. Cook till shells are open, anywhere from 5 to 10 minutes. Discard any that remain closed.

For shelled clams, add the clams, along with their liquid to the cooked and ready sauce for a 2 or 3 minutes, just so they heat, otherwise they will turn tough and rubbery if cooked too long.
Meanwhile cook the pasta and when ready, drain into a warm bowl.
Pour sauce, clams and all over the pasta and toss well.
Sprinkle with the remaining parsley.
Serve immediately.
No cheese.
I like to add a little piece of hot chili pepper or some red chili flakes together with the garlic.



Copyright © 2000,2012 e-rcps.com, All Rights Reserved