RAW TOMATOES WITH BASIL AND ONIONS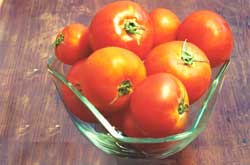 Pasta alla checca - I
Preparation - Easy
Serves 4
This style of pasta can be found all over Italy in the summer, when tomatoes and basil are at their peak. In Rome it's called pasta alla checca. What does alla checca mean? No one has ever given me a satisfactory explanation. The sauce should be made in advance, but if you're going to hold it for more than a couple of hours, add the basil only an hour before serving. The raw salsa clings best to curly fusilli or small pasta shells.

Look for the very best, ripest, fullest-flavored tomatoes in local farmers' markets. There's just no point in making this dish unless tomatoes are at their peak. But when they're at their peak, if you're like me, you'll want to make it two or three times a week.

Some cooks sharpen the pasta sauce with a teaspoon of balsamic vinegar, added with the oil.

Also have a look at summer pasta without onions, and with optional mozzarella.
6 medium (1 1/2 lbs) ripe, red tomatoes
1 garlic clove, minced
2 medium red onions, halved and thinly slice
1 cup loosely packed fresh basil leaves
1 teaspoon salt or more to taste
freshly ground black pepper to taste
1/2 cup extra-virgin olive oil
1 lb fusilli or conchiglie
6 quarts water
OVER a bowl large enough to hold all the ingredients except the pasta, cut the tomatoes into small pieces and mix them and their juices with the garlic and onions.

TEAR the basil leaves into shreds and add to the bowl.

ADD the salt, pepper, and oil and toss to mix well.

COVER the bowl with plastic wrap and set in the refrigerator until ready to use.

COOK the pasta in boiling salted water.

WHILE the pasta cooks, rinse a pasta serving bowl in hot water to warm it.

REMOVE the bowl of sauce from the refrigerator and uncover it.

AS soon as the pasta is done, drain it and turn it into the warmed bowl.

IMMEDIATELY pour the cold sauce over and mix well. Serve at once. Makes 6 servings


Nutritional Data, per portion
Calories  504   Carbohydrate  71g   Saturated Fat       3g
Protein   12g   Sodium        65lmg Monounsaturated Fat l5g
Fat       21g   Cholesterol   0
Source:
The Mediterranean Diet Cookbook
Nancy Harmon Jenkins
Broadway Books




Copyright © 2000,2012 e-rcps.com, All Rights Reserved