CAULIFLOWER, GARLIC AND ANCHOVY SAUCE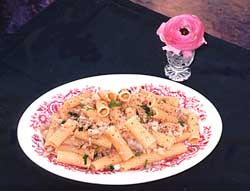 Rigatoni con cavolfiore
Sicily
Preparation - Medium
Serves 4
Cauliflower, is very popular in Italy. Northerners call it "cavolfiore", while in southern Italy what we know as broccoli is sometimes also called "cavolfiore". Whatever it is called, the humble cauliflower is surprisingly versatile. It can be steamed and served as a salad, pickled, sautéed, in a gratin, and in sauces. This sauce, "in bianco", is delicious. "In bianco", in white; with no tomatoes to color it red, with garlic and olive oil as the base.
1 to 1 1/2 lbs cauliflower broken into small flowerets
4 T olive oil
2 cloves garlic, peeled and finely chopped
5 anchovy fillets, packed in oil, drained and chopped
1/2 a red-hot chili pepper, or more to taste, (red chili flakes can be substituted) (optional)
1 T fresh flat-leaf (Italian) parsley, chopped (optional)
salt and freshly ground black pepper
1 lb rigatoni or penne
6 quarts water
Simmer the cauliflower for about 5 minutes, till tender, but not mushy.
Place in a small bowl and break into tiny bits with a fork, or a pestle.
Drain, reserving the liquid and adding it to the pasta water, as it will enhance the flavor of the penne.
In a pan or skillet, heat the olive oil over medium heat.
Add the garlic, and the chili pepper. Sauté till golden.
Add the anchovies and mash them in the olive oil with a wooden spoon.
Add the broken up cauliflower and mix thoroughly. Keep warm.
Meanwhile cook the pasta, when ready, drain, and reserving 1/4 cup of the liquid.
Place in warm bowl and pour hot cauliflower sauce over it, tossing as you do so.
If the sauce seems dry add a tablespoon of the cooking liquid at a time till desired moistness is achieved.
If you are using parsley, add at this point along with a few turns of the pepper mill.
Serve hot onto pre-warmed dinner plates.
Usually, no cheese is served with this sauce. However, if you like to use cheese go ahead and do so.
Hint: If you finished preparing the cauliflower sauce before the pasta is quite ready, reheat it briefly. I prepare it in a large pan. When pasta is done, simply add it to hot cauliflower sauce, mix well and serve.
A fresh tomato salad, or sliced tomatoes drizzled with olive oil sprinkled with finely chopped Spanish onion is a good accompaniment.



Copyright © 2000,2012 e-rcps.com, All Rights Reserved