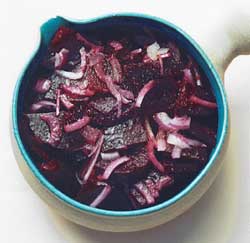 BEET AND ONION SALAD
Insalata di barbabietole e cipolle
Rome - Lazio
Serves 8
Preparation - Easy
Can be served as an antipasto or a salad. If you can get beets with their stalks, trim the stalks to within 2 inches of the stem.
A variation of the salad can be made by slicing the beets thin and marinating them for 2 hours with 10 fresh basil leaves, salt, and vinegar. Mix with sliced fennel and olive oil.
2 lbs beets
1 medium yellow onion or 2 medium Bermuda onions
coarse salt and freshly ground black pepper
1/4-cup extra virgin olive oil, or more to taste
2 T wine vinegar, or more to taste
Leave about 2 inches of stem on the beets.

Wash, then place in cold water to cover, bring to a boil, and boil gently for about 1 hour, or until tender. Or cook in a pressure cooker with cold water to cover for 10 minutes, or in a 325°F oven until tender, 1 to 2 hours, according to freshness. Test with a fork to be sure they are cooked through.

Cool and slip off the skins.

Slice the beets and onion thin and place in a salad bowl.

Sprinkle with salt and pepper to taste and dress with the oil and vinegar.
NOTE: This can be prepared several hours in advance.
Lo Chef



Copyright © 2000,2012 e-rcps.com, All Rights Reserved
Recipes
Basics
Glossary
FAQ
Cookbooks
Tell a friend
Cooking Classes
Cooking classes in the U.S. and Italy.
---
Gastronomy Tours
Tour Wine & Olive oil country and other regions.
---
Links
Links to other sites of related interest.
---
Sources
Where to buy special ingredients and utensils.
---
Ask the Chef
If you don't find your recipe.
---