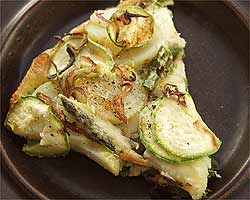 ASPARAGUS, ZUCCHINI AND POTATO ITALIAN OMELETTE
Frittata con asparagi, zucchini e patate
Preparation - Easy; Prep: 10 - Cook: 20
Serves 2 - 4
Quick and easy lifesaver if you have need a special meal pronto! Good hot or cold.
INGREDIENTS:
5 TBSP olive oil
4-5 eggs, lightly beaten
3-4 TBSP water
1/2 lb asparagus in bite-size pieces
1 medium zucchini, thinly sliced
1/2 spanish onion, thinly sliced
3 medium potatoes, boiled and thinly sliced
1/4 tsp Pico di Gallo or cayenne pepper
3 TBSP Parmesan cheese, grated
salt

Mixing bowl, oven-proof skillet or pie plate; oven with broiler*
METHOD:
PREHEAT oven to 450F.
LIGHTLY sauté asparagus in a skillet in 2 TBSP olive oil till just tender. (can be prepared ahead of time or use any leftover cooked asparagus).
REMOVE from pan.
IN same skillet heat 1 TBSP olive oil and sauté onion over medium heat stirring regularly until browned and caramelized.
BOIL potatoes until just tender - knife penetrates but potatoes still firm. (can be prepared ahead of time or use leftovers)
DRAIN.
COOL and slice potatoes very thinly.
IN a small bowl lightly beat eggs adding 3-4 TBSP water, salt (1/2 tsp), more to taste
POUR 2 TBSP olive oil into a glass pie pan or other round oven-proof pan.
PLACE in hot oven for a few minutes till oil hot.
REMOVE and add egg mixture.
SCATTER potatoes, asparagus, zucchini and lastly onion over surface.
SPRINKLE with a little salt, cayenne pepper & Parmesan cheese.
PLACE in oven and bake for 15 minutes or until eggs cooked through.
PASS under hot broiler for 2 minutes or more till surface lightly browned (keep an eye on it).
COOL and serve.
*A frittata is thick and is therefore cooked slowly (to cook thoroughly and to be firm when done) - and it must be cooked on both sides - best in the oven and under the broiler, which lighlty browns the top (photograph) but can also cooked on low heat on the top of the stove and 'flipped' - turned with a spatula or slid onto a warm plate and turned back into the skillet to finish.
Cookbook We Like:



Copyright © 2000,2012 e-rcps.com, All Rights Reserved