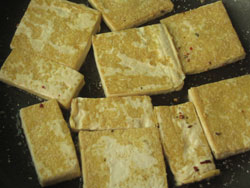 FRYING OR BAKING TOFU
Prep:Easy, draining & tofu takes time.
Vegetarian.
Tofu tastes better in almost any dish if drained and baked or sauteéed before using in any dish.
TO FRY
INGREDIENTS:
Tofu (firm or extra firm)
Soy sauce
Hot pepper flakes

Sauté pan.
SLICE tofu 1/2 inch thick.

DRAIN and COMPRESS by placing on lots of paper towels, or newspaper covered w/paper towel.

LAYERS:
newspaper
paper towel
tofu
paper towel
newspaper
tray or board
heavy weight.

WEIGH down w/a chooping board and water bottles or similar 30 - 45 minutes.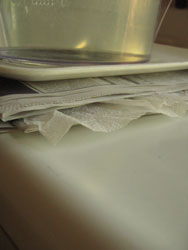 HEAT 1 tbs sesame oil in large non stick skillet over medium heat (add pepper flakes, if desired).
ADD tofu.
SAUTE till golden brown and crisp on the outside. be sure to turn.
REMOVE tofu cut into bite size pieces.
TO BAKE
Marinating before cooking the tofu for a half hour or more enhances the flavor.
INGREDIENTS:
2 containers firm or extra firm tofu, pressed
1/3 cup soy sauce
3/4 cup water
1 TBS fresh ginger, minced
3 cloves garlic, minced
1 1/2 tbsp sesame oil
2 tbsp sesame seeds (optional)
METHOD:
SLICE each block of tofu into 4 or 5 slices.
IN a small bowl, whisk together the soy sauce, water, ginger, garlic and sesame oil. Pour mixture over each piece of tofu in a shallow bowl or pan, and allow to marinate for at least 30 minutes.
PREHEAT the oven to 425 degrees and lightly grease a baking sheet. Carefully place each slice on the baking sheet and sprinkle with sesame seeds.
BAKE for 30 minutes, then rotate the sheet, if needed and drizzle with more marinade. Bake for another 15 minutes, or until liquid is almost dry.
Cookbook we like:



Copyright © 2000,2012 e-rcps.com, All Rights Reserved