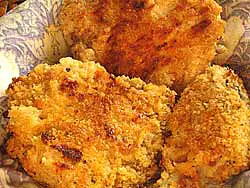 Panko
breadcrumbs bottom, normal breadcrumbs top.
OVEN FRIED CHICKEN RECIPE
Preparation: Easy
Time: Prep:15min; Cook:40min; Total: 55min.


Serves: 4


By: Lo Chef
Easier to make and clean up, less fat, delicious.
Panko is a coarser version of breadcrumbs and comes in various flavors, we often use Progresso Italian flavored panko. Thicker and crunchier crust than normal breadcrumbs.
INGREDIENTS:
1/2 cup buttermilk
1/2 tsp salt, or to taste
1 TBSP seasoning of choice, like Cajun, (optional)
Tabasco (optional)
1 cup panko or normal breadcrumbs, flavor of choice - significantly crunchier and more satisfying result with panko
2 pieces of chicken per person (legs, thighs, 1/2 breast)
Parchment paper (I include this as an ingredient because it's the only way I've found that prevents the chicken from sticking to the baking sheet. Oil or spray doesn't do it).
Cooking spray (for chicken)

Bowls for dredging, baking sheet, parchment paper.
METHOD:
PREHEAT oven to 400 degrees F., rack on middle shelf.
COMBINE buttermilk, salt, (optional) seasoning, and (optional) tabasco in a shallow dish. Place breadcrumbs in 2nd shallow dish. Dip chicken, one piece at a time, into buttermilk mixture; dredge in breadcrumbs. (Some folks put the breadcrumbs in a paper bag, add chicken 1 - 2 pieces at a time and shake).
LINE baking sheet with parchment paper. Place chicken on a baking sheet. Lightly coat chicken with cooking spray.
BAKE at 400 degrees F. for 40 minutes or until done, turning after 20 minutes.
RESIST urge to gobble crunchy chicken, allow to cool first!



Copyright © 2000,2012 e-rcps.com, All Rights Reserved