BEER CAN CHICKEN RECIPE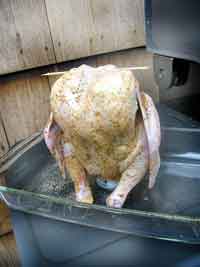 BEER CAN CHICKEN RECIPE - IN THE OVEN
BEER CAN CHICKEN RECIPE - FOR GAS GRILLS
BEER CAN CHICKEN RECIPE - CHARCOAL GRILLS
Easy
Prep time:

15 min


Cook time:

2 hour


Total time:

2 hours 15 min
If starting with frozen chicken, defrost for 3 days in refrigerator.
INGREDIENTS:
3 - 4 pound whole chicken - kosher or free range is best
6 TBSP Memphis rub or spice mix
1 12-14 oz can beer

Oven proof pan or dish; tongs and mitt; skewer.
METHOD:
PREHEAT oven to 400 degrees F. - rack on bottom.
REMOVE any innards or other items from inside of the chicken.
RINSE the chicken inside and out in cold, running water.
OPTIONAL: seal neck of chicken with skewer (shown) for gravy, seal neck, for moister chicken, leave open.

RUB the chicken, inside and out with Memphis rub or your choice of spices.

OPEN a standard can (14 oz) of your favorite beer, punch a few extra holes, and quaff off about 1/4 of the beer.
ADD 2 TBSP rub or spice to beer can.
PLACE beer can on ovenproof pan or dish (this allows the chicken to cook indirectly and catches the juices if you want to make gravy.
ARRANGE chicken on beer can, allow the two legs to form two sides of tripod so chicken is stable (picture).
WHEN oven is ready (400 degrees), place chicken on pan or plate on bottom rack. Some cooks 'tent' the bird with foil for the first hour or so to prevent over-browning.
REDUCE oven to 350 degrees after 1/2 hour.
BEST when chicken cooks 1 1/2 - 2 hours - check visually after about 1/2 hour and rotate the chicken in a half circle to cook evenly, should brown slowly and evenly.
RECOMMENDED cooking times (350 degrees):
2 1/2 - 3 lbs: 1 - 1 3/4 hrs
3 1/2 - 4 lbs: 1 1/2 - 1 3/4 hrs
4 1/2 - 5 lbs: 1 1/2 - 2 hrs
5 - 6 lbs: 1 3/4 - 2 1/2 hrs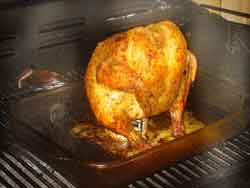 WHEN chicken is ready, using tongs and oven glove if necessary to separate chicken and beer can, carefully remove to separate platter. Allow to stand for 10 minutes.

REMOVE ovenproof pan or dish, and pour in any remaining beer, stirring, if make a sauce.

CUT up chicken and serve. Serve gravy in separate dish
.
AMAZON BEST SELLER



Copyright © 2000,2012 e-rcps.com, All Rights Reserved