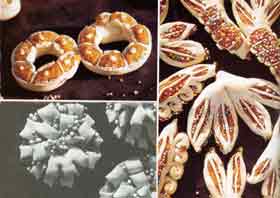 PASTRIES FROM PANTELLERIA - ANNA TASCA LANZA
Mustazzuoli Panteschi
Pantelleria
Preparation - Let us know!
4 dozen
Maria D'Aglietta makes her mastazzuoli filling with dried figs and raisins but I have had more luck with this recipe which I got from Signora Pasqua Liceti, who got it from her great-grandmother Pasqualina. The pastries used to he made especially for Easter, but now they are made in the summer to be sold to tourists who buy them for their beauty, not their symbolic value.
DOUGH:
4 cups (600 g) bleached all-purpose flour
1/3 cup (65g) sugar
Pinch of salt
5 tablespoons (70 g) vegetable shortening
About 1 1/2 cups (375 ml) cold water
FILLING:
3/4 cup (250 g) honey
1/4 cup (60 ml) water
1 cup (200g) sugar
2/3 cup (100 g) almonds, toasted and ground
1/2 cup (25 g) sesame seeds, toasted
2 1/2 tablespoons (35 g) vegetable shortening
2 teaspoons grated lemon zest
1 cup (250 g) couscous
1/4 teaspoon mint extract
1/2 teaspoon vanilla extract
1/2 teaspoon ground cinnamon

Mixing bowl, baking sheet.
METHOD:
To make the dough, combine the flour sugar and salt in a large bowl or on the counter and make a well. Add the shortening and work it in with your hands or a pastry cutter until it is the consistency of oatmeal. Gradually add as much water as you need to make the dough stick together Do not overwork it. Set aside in a cool place for 2 hours
Make the filling about 30 minutes before you plan to form the pastries. Grease a baking sheet and set it aside.
Combine the honey, water sugar almonds, sesame seeds, vegetable shortening, and 1 teaspoon of the lemon zest in a saucepan, preferably nonstick. Bring to a boil and gradually add the couscous, stirring as you sprinkle it on. Cook, stirring constantly, until the mixture comes away from the sides of the pan, about 7 minute
Remove from the heat and stir in the mint and vanilla extracts, cinnamon, and remaining 1 teaspoon lemon zest. Pour out the mixture onto the baking sheet. As soon as it is cool enough to handle, take pieces of filling and roll them into sausages about 1/2 inch (1,5 cm) in diameter.
Pinch off a piece of dough and roll it out into a rectangle about 1/8 inch (3 mm) thick and 2 1/4 inches (6 cm) wide. Place a sausage of filling on the dough, bring up the sides, and roll it under your hands into a rope about 3/8 inch (1 cm) thick. Continue with all the dough and all the filling. If the filling gets too stiff to work, warm it in a low oven.
Cut a length of the rope about 5 inches (13 cm) long and form a ring. Or cut longer lengths to form leaves, spirals, and other shapes. Using a sharp paring knife and embroidery scissors, cut out windows and other shapes. If your kitchen is very warm or humid and the dough resists cutting, place the pastries briefly in the freezer or refrigerator
Preheat the oven to 350 degrees F. (175 degrees C.). Sprinkle 2 baking sheets with semolina flour or cornmeal or line them with parchment paper Place the pastries close together on the baking sheet and bake in the middle of the oven for 15 minutes, or until the filling is bubbling. The dough will not brown. Remove from the oven and cool on racks. Repeat with the second sheet
From:
The Flavors of Sicily
Anna Tasca Lanza
Potter



Copyright © 2000,2012 e-rcps.com, All Rights Reserved