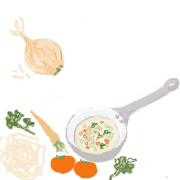 VEGETABLE BROTH - VEGETARIAN RECIPE
Brodo di verdura per i vegeriani
Puglia
Preparation - Medium/Difficult; Prep: 1:00 - Cook: 1:45 +
About 2 quarts.
You will never get the same flavor impact with vegetable broth as you do with broth made from meat, chicken, or fish, so using olive oil to unite and boost the flavors is important. Vegetable broths as such are rarely used in Pugliese kitchens-this one is for the benefit of strict vegetarians.
INGREDIENTS:
2 medium yellow onions, quartered
3 carrots, peeled and cut in chunks
3 dark green outer celery ribs, cut in chunks
3 garlic cloves, lightly crushed with the flat blade of a knife
2 T extra virgin olive oil
6 plump brown mushrooms, cleaned and quartered (cremini or shitake are more flavorful than ordinary supermarket mushrooms; wild mushrooms, if you can find them, are best of all)
1 cup dry white wine
9 cups hot water
1 fat leek, rinsed carefully
1 fennel bulb, including the leafy green tops, chopped
1 T chopped fresh thyme, or 1 t dried, crumbled
1 3-inch cinnamon stick, optional
6 whole cloves, optional
6 slices of dried porcini mushrooms
salt and freshly ground black pepper to taste

Ovenproof baking dish, stockpot
METHOD:
Preheat the oven to 425 deg. F. In a flameproof glass or metal baking dish, turn the onions, carrots, celery, and garlic in the olive oil to coat them well.
Roast for 15 minutes; then add the mushrooms and stir to mix well.
Return to the oven for another 15 minutes, after which the vegetables should be brown and crispy on the edges and should give off a delicious aroma.
Remove the dish from the oven and serape the vegetables into a heavy stockpot or soup kettle.
Add the wine to the oven dish and set over medium heat. Cook the wine, scraping up the brown bits in the pan, until it is slightly reduced, about 10 minutes, then add to the stockpot with 9 cups hot water.
Add the leek, fennel, thyme, cinnamon, and cloves. Bring the stock to a simmer over medium-low heat, cover, and cook for at least 1 hour.
Meanwhile, put the dried mushrooms in a 1-cup measure and fill with boiling water. Let soak for 15 minutes. Remove the mushrooms (do not discard the soaking liquid) and rinse under running water to get rid of grit. Chop them coarsely and add to the stockpot along with the soaking liquid, strained through a fine-mesh sieve.
When the stock has finished cooking, strain it through a double layer of cheesecloth or a fine-mesh sieve.
Discard the vegetables and aromatics.
Taste the broth for seasoning, adding salt and pepper if necessary - be mindful of the salt, however, because reducing the broth later may concentrate the salt too much.
Source:
Flavors of Puglia
Nancy Harmon Jenkins
Broadway Books



Copyright © 2000,2012 e-rcps.com, All Rights Reserved