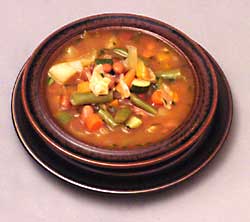 VEGETABLE SOUP, MILAN STYLE
Minestrone Milanese
Medium difficulty
Prep: 30 (plus soaking beans, if necessary) - Cook: 2:00
Serves 8
Vegetarian with vegetable broth
A rustic country soup that should be served hot in winter and cool in summer. Takes time to prepare, but the results are worth it - recruit somebody to help you prepare the vegetables. Serve with fresh Italian bread, no butter. It makes a pleasant summer or autumn soup, using almost any fresh vegetables in season.
INGREDIENTS:
1 pound fresh borlotti or cranberry beans, shelled to yield 8 oz; (see note below), or 1 15 1/2 oz canned beans
4 cups chicken broth
8 oz tomatoes, peeled and seeded
8 oz cabbage, shredded
8 oz carrots, scraped, cubed
1 large potato, peeled and diced
8 oz string beans, cut in pieces, or fresh green peas
1 T chopped fresh parsley
coarse salt to taste
3 T extra virgin olive oil, plus some in addition for serving
1 medium onion, coarsely chopped
1 clove garlic, chopped
1 rib celery, trimmed, coarsely chopped
8 ounces small zucchini, scrubbed, cut in half, and sliced thin
1 large ripe tomato, peeled, seeded, and coarsely chopped
4 oz rice, Arborio if possible
chopped fresh basil to taste
freshly grated Parmesan cheese to taste
freshly ground pepper to taste

2 saucepans (rice and soup cooked separate), 1 skillet.
METHOD:
Bring broth to a boil in a soup kettle.
If using fresh beans, add the beans and cook for 30 minutes. If using canned, add with rest of fresh ingredients.
Puree the 8 ounces tomatoes in a blender.
Add to the beans, along with cabbage, carrots, potato, string beans or peas, and parsley; add salt to taste.
Cook for 30 minutes.
Heat the 3 tablespoons oil in a saucepan and cook the onion and garlic on low heat until golden.
To same pan, add the celery, zucchini, and chopped tomato and cook for 15 minutes.
Add to the bean mixture and simmer for 30 minutes.
In a separate pan, cook the rice until al dente, about 18 minutes, then drain.
Pour 2 cups cold water over to stop the cooking process, then drain again.
Drain once more on a tea towel.
To serve hot, bring soup to a boil, add the rice and serve at once.
To serve tepid, add rice to the cooled soup and mix. Serve in individual bowls (terra cotta if possible) with chopped basil.
Pass freshly grated Parmesan, olive oil, and a pepper mill.
NOTE: Five ounces dried white beans may be substituted for the borlotti. Soak overnight and cook until tender. Add to broth with vegetables.
Source:
Italian Cooking in the Grand Tradition
Jo Bettoja and Anna Maria Cornetto
The Dial Press



Copyright © 2000,2012 e-rcps.com, All Rights Reserved