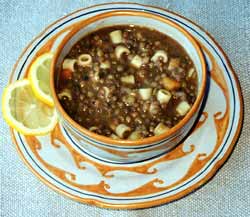 LENTIL SOUP WITH PASTA RECIPE
Zuppa de lentiche con pasta
Preparation - Easy
Serves 4 - 6
INGREDIENTS:
1/2 lb dry lentils (better fresh, and 'green'), rinsed in cold water
3 TBSP olive oil
1 carrot, diced
1 medium onion, chopped
1 clove garlic, chopped
3 TBSP tomato sauce
1/2 cup pasta, ditalini or other small pasta
Lemon juice, to taste
Salt and freshly ground black pepper

Large, heavy saucepan.
METHOD:
Heat olive oil in a saucepan.
Add onion, carrot and garlic and sauté over medium heat until transparent and soft.
Add lentils and water to cover to a depth of about an inch.
Simmer gently for about 1/2 hour till lentils are nearly cooked through -(more or less depending on type, size and age of lentils).
Add tomato sauce and pasta and a little more water if need be, stirring occasionally.
Simmer till pasta is cooked through.
Season to taste with salt, pepper and lemon juice.
Serve hot.
AMAZON BEST SELLER



Copyright © 2000,2012 e-rcps.com, All Rights Reserved