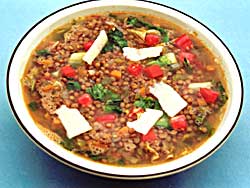 LENTIL AND ESCAROLE
Minestra di lentiche con verdura
Puglia
Preparation - Easy; Prep: 20 - Cook: 50
Serves 4 as a main course
Vegetarian
INGREDIENTS:
3 T olive oil
1 large onion, chopped
1 stalk celery, chopped
2 medium carrots, chopped
2 garlic cloves, chopped
3 large tomatoes, chopped
2 bay leaves, torn in half
1 head escarole lettuce (about 1 lb), washed and cut into 1 inch strips.
1/2 lb lentils (if using Italian lentils, soak overnight as they do not cook as rapidly as lentils found here in supermarkets.)
Pecorino or Parmesan cheese as shavings (not grated - see photograph)
6 cups water
Salt and freshly ground black pepper

Large saucepan.
METHOD:
IN a large saucepan, heat oil over medium heat.
ADD onions, carrots and celery.
SAUTÉ, stirring frequently for about 10 minutes or till soft, do not allow vegetables brown.
ADD 5 cups of water to start.
ADD the lentils and the bay leaf.
COOK for 20 minutes.
ADD 2/3 of tomatoes.
ADD more water if necessary.
COOK for another 10 minutes.
WHEN lentils done to taste, add the escarole.
COOK till escarole turns limp, 3- 4 minutes.
LADLE soup into bowls.
SPRINKLE surface with remainder of the freshly chopped tomatoes and slivers of Pecorino or Parmesan cheese.
SERVE.
AMAZON BEST SELLER



Copyright © 2000,2012 e-rcps.com, All Rights Reserved