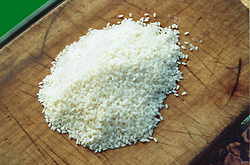 BASIL, SAGE, CHEESE AND TOMATOES WITH RICE

HIGH SUMMER RISOTTO
Risotto al sol d'Agosto
Tuscany
Preparation - Medium/Difficult
Serves 8
This is based on a recipe in Giovanni Righi Parenti's great book La Cucina Toscana, which should be in the library of anyone who loves Tuscany and Tuscan food. "Sol d'agosto" refers to the leonine sun of August, when tomatoes are at their peak of perfection. I have changed the recipe a little in order to use the aromatics available in American markets and gardens, but that brilliant touch at the end, the addition of raw tomatoes and aromatics to finish the dish, is straight from Righi Parenti's description.
INGREDIENTS:
1 medium white onion, finely chopped
1/4 cup finely chopped basil, plus 2 T slivered basil leaves
1/4 cup finely chopped flat-leaf parsley
2 T finely chopped sage
2 T extra virgin olive oil
2 cups Arborio, carnaroli, or vialone nano rice
salt and freshly ground white pepper to taste
1/2 cup dry white wine
2 1/2 cups peeled, seeded, and chopped perfectly ripe, sweet, fresh tomatoes
1 cup hot chicken stock, or more if necessary
1/2 cup freshly grated Pecorino Toscano or Parmigiano-Reggiano
2 cloves garlic, finely minced

Heavy saucepan with cover.
METHOD:
In a large heavy saucepan over medium-low heat, sweat the onion with the finely chopped basil (the slivered basil will be added later), parsley, and sage in the oil until the vegetables are very soft. Do not let them brown.
Mix the rice into the vegetables and add salt and pepper.
Stir slowly and when rice starts to turn opaque pour in the wine.
As soon as most of the wine has been absorbed by the rice, add about half the tomatoes to the dish, stirring to mix well.
Continue to cook the rice, stirring frequently; as the liquid in the tomatoes is absorbed, add hot chicken stock, 1/4 cup at a time. (You may not need all the chicken stock to finish the risotto.)
The risotto is cooked when the grains of rice are still separate and slightly resistant to the bite but bathed in a thick sauce.
At this point remove the pan from the heat and quickly stir in the cheese, the remaining tomatoes, the slivered basil, and minced garlic.
Cover and let rest for 10 minutes, then serve immediately.
Source:




Copyright © 2000,2012 e-rcps.com, All Rights Reserved