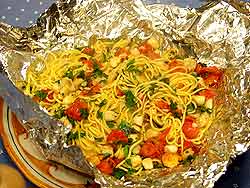 SPAGHETTI WITH SEAFOOD IN A POUCH
Spaghetti al cartoccio
 +Lo Chef.
Prep:

10 min

; Cook:

20 min

; Total Time:

30 min




Easy


Yield:

Serves 4
This delicious seafood dish is finished in sealed aluminum foil in the oven, brought to the table and opened - a puff of fragrant steam signals the great taste of this special pasta recipe.
INGREDIENTS:
1 pound of frozen prepared mixed seafood, or any mix of seafood - defrosted and drained on paper towels (you can also prepare any mix of fresh seafood individually then follow directions below)
4 TBSP extra virgin olive oil
5 cloves garlic, peeled and finely chopped
1/2 hot pepper, or 1/2 tsp pepper flakes (optional)
3 sprigs fresh oregano or thyme, or 1/2 teaspoon dried
1 cup white wine
salt and fresh ground pepper to taste
24 cherry tomatoes, cut in half (leave really small ones whole)
4 TBSP chopped parsley
1 lb. package spaghetti or linguini

Aluminum foil, pasta pot, large bowl
METHOD:
PREPARE heavy aluminum foil in a bowl shape large enough to accomodate the pasta and all ingredients. I did this by taking a large serving bowl and molding the aluminum foil to the interior. You want to be able to seal the 'pouch' before placing it in the oven so that the moisture is retained.
PREPARE fresh seafood if you are using it.
SET the pasta water to boil.
HEAT the olive in the large skillet/wok on medium-low flame, add the cloves of garlic and the hot pepper and sautée until the garlic is a light gold color, NOT brown.
ADD 2 tablespoons parsley, stir, add the optional thyme/oregano.
ADD the seafood, stir well, allow any uncooked elements to change color or turn opaque.
COOK the pasta very 'al dente' (it will cook more in the foil).
PREHEAT oven to 350 degrees F.
ADD the white wine to the seafood mixture. Keep on very low simmer until pasta is ready.
WHEN pasta is ready, add the tomatoes to the seafood mixture, stir well. DRAIN the pasta, add to seafood mixture, stir well.
POUR pasta and sauce into 'cartoccio'. SEAL.
PLACE 'cartoccio' on baking sheet and put on middle shelf in oven. BAKE for ten minutes.
USING hotpads, remove 'cartoccio' from oven, place on serving plate, bring to table.
OPEN (mmmmmm!!!!) and serve on warmed plates. GARNISH with remaining chopped parsley.



Copyright © 2000,2012 e-rcps.com, All Rights Reserved