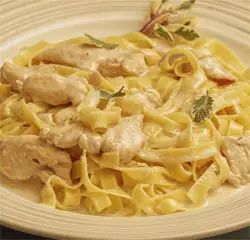 CHICKEN ALFREDO RECIPE
Preparation - Medium
Prep time:

15 min


Cook time:

1 hour (to cook chicken)


Total time:

1 hour 15 min


Yield:

Serves 4
You can vary the taste of this dish by the way you cook and add the chicken.The chicken breasts can be grilled and served on top of, or beside the Fettuccine Alfredo, or cut in morsels, sautéed or grilled until just done, then mixed with the fettuccine and sauce at the end. My favorite is chicken grilled on charcoal. Another variation is adding a sprinkling of Parmesan cheese and finishing in the oven. You can also (optionally) add cooked, diced red pepper. You can use fettuccine, taglietelle, mostaccioli, penne or farfalle pasta.
Once your chicken is cooked, you can procede with cooking the pasta and preparing the sauce at the same time. Tastes best if you combine pasta and sauce when they are just ready.
INGREDIENTS:
2 skinless chicken breasts, cut in slices about 1/4 " thick then in bite-size morsels
3 - 4 leaves of sage
1 red pepper, seeded, coarsley diced, sautéed in olive oil or butter (optional)
8 oz pasta (fettuccine, tagliatelle) or 12 oz (3/4 package) penne, etc. (fettuccine is heavier).
4 tablespoons unsalted butter, at room temperature (or 2 of olive oil for sauteeing the chicken and 2 of butter for the sauce)
1 cup freshly grated Parmigiano Reggiano (Parmesan), at room temperature, plus extra cheese to pass at the table
1 1/4 cup Half and Half (mixture of light and heavy cream)
salt and freshly ground pepper (use white pepper if you have it)
a pinch of grated nutmeg

Pasta pot; pan large enough to hold all ingredients and pasta (we use a large non-stick wok for this).


METHOD:
SET the pasta water to boil in your pasta pot.
IN the large sauté pan large enough to hold all the ingredients, sauté the diced chicken in 2 tablespoons of butter or good olive oil until lightly browned. Set chicken aside on a warm plate.
TIP: Remember to reserve some of the cooking water to moisten your chicken Alfredo if it is too dry.
IN the sauté pan: ADD the heavy cream, 2 tablespoons of butter and 1/2 cup Parmesan cheese to the same pan. Keep cooking on low-medium heat, stirring occasionally until the mixture reduces slightly and thickens.
ADD pinch of nutmeg, 3 - 4 leaves of sage, salt and pepper to taste. Stir.
ADD the cooked chicken and optional ingredients and mix again. Taste for salt. Add a TBSP or two of the pasta cooking water if too dry.
ADD the cooked and well-drained pasta to the sauce. Mix well with a wooden spoon.
TURN into a warmed serving bowl, or directly onto warmed plates.
VARIATION: Turn pasta mixture into a baking dish, sprinkle 1/2 cup Parmesan cheese on top, and set under broiler for about 30 seconds, until flecked with brown.
PASS grated Parmesan at the table.
Cookbook we like:



Copyright © 2000,2012 e-rcps.com, All Rights Reserved