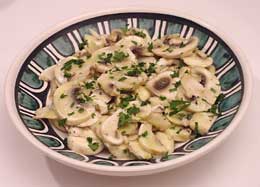 MUSHROOM SALAD
Insalata di funghi
Preparation - Easy
Serves - 4
Make sure that the mushrooms are well cleaned.
INGREDIENTS:
1/2 lb fresh white or brown mushrooms, cleaned of grit and sand, thinly sliced
3 T olive oil
1 T lemon juice or to taste
garlic, a sliceanchovy , optional
fresh flat-leaf parsley, washed, dried and chopped
salt to taste
METHOD:
Place mushrooms directly in a serving bowl.
Prepare a dressing of olive oil, lemon juice salt and pepper.
Pour dressing over the mushrooms , sprinkle with parsley and garnish with anchovy if you wish.
The most important factor is that the mushrooms be truly fresh and firm. You can use white or brown mushrooms, or both.



Copyright © 2000,2012 e-rcps.com, All Rights Reserved