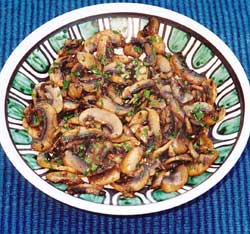 SAUTÉED MUSHROOMS WITH PARSLEY AND GARLIC
Funghi trifolati
Preparation - Easy
Serves 4
Trifolato: A method of cooking vegetables, particularly mushrooms, zucchini, eggplants and Jerusalem artichokes. The sliced vegetables are sautéed in olive oil, garlic and parsley; these are the basic elements, to which anchovies, capers and wine may be added. In Liguria this method of cooking is called al funghetto. Oddly enough, only one meat dish shares the name and has a similar method of cooking: rognoni - kidneys - trifolati.
1 garlic clove, finely chopped
1 lab firm white mushrooms, thinly sliced
1/3 cup olive oil
salt and freshly ground black pepper
2 T fresh parsley, shopped
SAUTÉ the garlic and mushrooms in the oil over high heat until they have absorbed the oil.
REDUCE the heat, add the seasonings and mix well.
WHEN the juice has come out of the mushrooms, turn the heat up and cook for four to five minutes, stirring frequently.
SPRINKLE with parsley, stir again and serve.
NOTE: may be served hot or at room temperature. This is dish is often placed on the antipasti table in restaurants.



Copyright © 2000,2012 e-rcps.com, All Rights Reserved
Recipes
Basics
Glossary
FAQ
Cookbooks
Tell a friend
Cooking Classes
Cooking classes in the U.S. and Italy.
---
Gastronomy Tours
Tour Wine & Olive oil country and other regions.
---
Links
Links to other sites of related interest.
---
Sources
Where to buy special ingredients and utensils.
---
Ask the Chef
If you don't find your recipe.
---