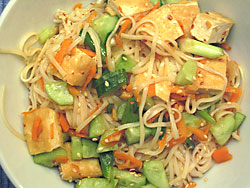 DELICIOUS TOFU WITH SESAME AND UDON RECIPE.
Serves 2 - 4
Vegetarian, Easy
Sautéed or baked tofu and a marinade of mixed ingredients make an easy to prepare and special dish. Can be eaten cold.
INGREDIENTS:
8 ounces udon noodles
2 TBSP seasoned rice or cider vinegar (more to taste)
1 1/2 to 2 TBSP low-sodium soy sauce
1 TBSP dark sesame oil, plus 1 tsp if sautéing ready-prepared tofu
2 cloves garlic, minced
1 tsp fresh ginger, minced (although I like to come across a thin slice or two.....)
1/4 tsp crushed red pepper
1 1/2 cups thinly sliced small or medium cucumber, optionally peeled
1 cup shredded carrot
1/4 cup (1-inch) diagonally cut green onions
2 tsp sesame seeds, toasted (optional, nice enhancement
1/4 tsp salt
1 (8-ounce) package tofu (use available 'baked' tofu if desired)

Pot to cook udon noodles, mixing bowl, bowl large enough to hold all ingredients (optionally warmed with cooking water when draining noodles), sauté pan or wok if sautéing tofu at this stage.
METHOD:
AT LEAST 30 minutes before serving, mix together in a small bowl the vinegar, soy sauce, sesame oil, garlic, ginger, hot pepper and sliced scallions (you can also add these at last step, if preferred). Allow to stand.
PREPARE the tofu (drained and sautéed or baked), if desired.
IF you don't have tofu hot from pan or oven (previous step), sauté in 1 tsp sesame oil.
COOK noodles according to package directions, omitting salt and fat.
ADD tofu to marinade.
DRAIN noodles. Combine cooked noodles, spring onions, cucumber, carrots, and tofu in a large bowl. Pour marinade with rest of ingredients over noodles, toss well, serve.
AMAZON BEST SELLER



Copyright © 2000,2012 e-rcps.com, All Rights Reserved