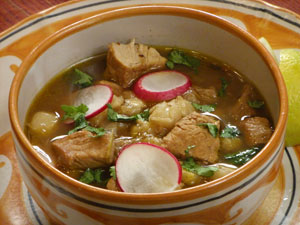 PORK POSOLE WITH HOMINY RECIPE
Easy; Prep:10 - Cook:1:40
Yield: 4 servings
If you like Southwestern and/or hominy, this is your dish! Canned ingredients are salty enough, don't add salt without careful tasting. If you can't find salsa verde, check our recipe.
INGREDIENTS:
2 tablespoon olive oil (separately), you can also use canola or corn oil
12 ounces boneless pork shoulder, trimmed of fat and cut into 1/2-inch pieces
1 cup chopped onion
4 garlic cloves, minced (finely chopped)
1 1/2 teaspoons ground cumin
1/2 teaspoon ground red pepper
1/2 cup beer or water
2 cups chicken, beef or vegetable broth
1/2 cup salsa verde
1 (28-ounce) can hominy, rinsed in cold water and drained
1/4 cup cilantro leaves
4 radishes, sliced
4 lime wedges

Heavy dutch oven or casserole (stovetop) with cover.
METHOD:
Have all your ingredients prepared and gathered (onions, garlic, spices, etc.) for easy adding as the cooking progresses.
Heat a Dutch oven over medium-high heat. Add 1 TBSP oil; swirl to coat. Add pork; sauté 5 minutes, turning to brown on all sides - allow any liquid to boil off. Remove pork to paper towels on newspaper to drain.
Add TBSP oil, onion; sauté stirring occasionally until transparent, 4 -5 minutes; you should be 'deglazing' here, combining any bits off the bottom of the pan with onions.
Add minced garlic; sauté 1 minute, stirring constantly.
Return pork to pan; stir in cumin and pepper.
Add beer; bring to a boil. Cook until liquid almost evaporates (about 9 minutes). Make sure that all 'glaze' on bottom of the pan is combined with rest of ingredients.
Add broth, salsa, and hominy; bring to a boil.
Cover, reduce heat, and simmer 1 hour and 10 minutes or until pork is very tender, stirring occasionally.
Ladle 1 1/2 cups soup into each of 4 pre-heated (if it's cold outside) bowls.
Top each serving with a TBSP of cilantro and sliced radish. Serve with quartered Mexican limes.
VEGANIST - BEST SELLER!



Copyright © 2000,2012 e-rcps.com, All Rights Reserved