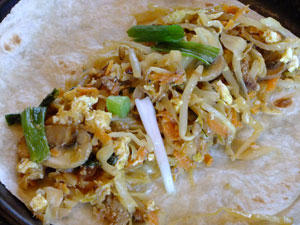 MU SHU PORK RECPE
Preparation - Medium
Prep: 15; Cook: 20
Serves 4
Leftovers
You can use leftover pork in this recipe. The Hoisin sauce gives a unique flavor, we've provided one of many existing substitutes at the bottom of the recipe.
INGREDIENTS:
2 TBS sesame oil, or vegetable oil like canola or peanut
3 eggs, lightly beaten
1 package (10 ounces) mushrooms, sliced or 1 can sliced mushrooms
2 cups shredded carrots
3/4 small cabbage thinly sliced (8 cups loosely packed)
1 TBS minced garlic - more to taste
1/2 lb pork loin in 1/2 inch strips - you can use leftover pork
2 TBS soy sauce
1 TBS hoisin sauce*
2 TBS rice wine vinegar
1 small Chinese hot pepper, or pepperoncino
2 cups fresh bean sprouts
3 scallions sliced diagonally into 1 inch strips
Flour tortillas
Additional Hoisin sauce for wrap

Large skillet or wok.
METHOD:
IN large skillet heat 1 TBS of oil over medium heat .
ADD Pork stir till cooked through about 5 min, remove and set aside.
ADD rest of oil, heat.
ADD cabbage, garlic, ginger, hot pepper, carrots, mushrooms and 1 cup beansprouts stirring occasionally till cabbage wilts, about 5 minutes.
ADD Vinegar, Hoisin sauce and Soy sauce.
STIR again.
ADD egg and stir till egg dries.
ADD Pork, and a 1/4 cup of hot water,. stir.
COOK for 5 minutes over low heat stirring ingredients to blend flavors.
SPREAD a little Hoisin sauce on warmed tortilla.
ADD pork mixture, a few slices of fresh scallions and some uncooked beansprouts.
*Homemade Hoisin Sauce
4 tablespoons soy sauce
2 tablespoons black bean paste or peanut butter
1 tablespoon honey or molasses
2 teaspoons white wine vinegar
1/8 teaspoon garlic powder
2 teaspoons sesame oil
20 drops hot sauce
1/8 teaspoon black pepper
AMAZON BEST SELLER



Copyright © 2000,2012 e-rcps.com, All Rights Reserved