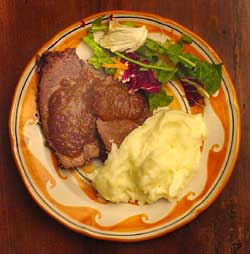 Tuscan Pot Roast Recipe
Stracotto
Prep:30, Cook:2 hours plus resting time
Preparation - Medium
Serves 8 - 10
This kind of pot roast exists all over Italy, a real Sunday dish, elegant, flavorful, and practical for the cook, since the sauce for the pasta and the meat cook all at once and together. Americans may find it odd to serve two courses with the same fundamental flavors, but to Italians it's perfectly normal. What makes this particular treatment Tuscan is the presence of a robust Chianti wine in the sauce. Any flavorful red wine with a good acidic balance will do.
INGREDIENTS:
3 1/2 pounds beef, such as top round, rolled and tied
3 or 4 cloves garlic, thinly sliced
2 medium carrots, scraped and thinly sliced
2 medium yellow onions, thinly sliced
1 thick stalk celery, thinly sliced
3 sprigs rosemary, leaves only, chopped
1/4 cup extra virgin olive oil
1 1/2 cups dry red wine
1 pound very ripe fresh tomatoes, peeled, seeded, and chopped, or 1 cup chopped canned tomatoes
1 T butter
1 T unbleached all-purpose flour
Salt and freshly ground black pepper to taste

Heavy, deep, covered roasting pot.
METHOD:
USING a small sharp knife, make incisions all over the meat to a depth of 1/4 to 1/2 inch and insert the garlic slices in them.
IN a heavy saucepan over medium-low heat, gently saute the carrots, onions, celery, and rosemary in the oil until the vegetables are beginning to soften but not brown. Add the garlic-studded beef, raise the heat to medium, and brown the beef on all sides, turning frequently. Add the wine and let it boil until reduced to about 1/2 cup. As soon as it's reduced, stir in the tomatoes. Cover and let simmer for about 1 hour.
WORK the butter and flour together to make a paste, then stir thoroughly into the cooking juices. Cover tightly, reduce the heat to low, and let cook at a bare simmer for 2 hours longer, adding a little hot water, wine, or broth if the liquid in the pan reduces too much.
WHEN the meat is done, lift it out of the cooking juices and set aside to rest for about 45 minutes, then slice off three thin slices of meat. Chop them with a knife as finely as possible.
DEGREASE the juices in the pan, setting aside about 1/2 cup of the meat juices to garnish the meat. Season with salt and pepper. Add the chopped meat to the remaining juices and serve this as a sauce over pasta for a first course. Serve the meat as a second course with the reserved juices as a garnish. (This is often served with a contorno of pureed potatoes.)
Cookbook we like:



Copyright © 2000,2012 e-rcps.com, All Rights Reserved