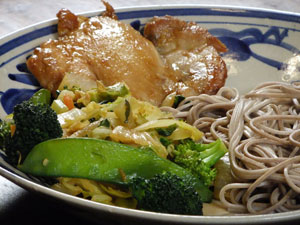 QUICK & EASY CHICKEN TERIYAKI RECIPE
Sautéed Chicken Teriyaki recipe.
 +Lo Chef.
Prep:

7 mins (up to 1 hour if marinating)

; Cook: About Cook:

6 - 8 mins

; Total Time:

15 min




Quick & Easy


Yield:

Serves: 1 - 2

(multiply for more)
Delicious for lunch or dinner; see also grilled or broiled.
INGREDIENTS:
Chicken breast, rinsed off, dried on paper towels and thinly sliced or placed between 2 sheets of plastic wrap and pounded to desired thicknesss
1/4 tsp salt
1 TBSP peanut or canola oil
3 TBSP teriyaki sauce
1/4 tsp cayenne pepper or 2 tsp hot pepper flakes - to taste
1/2 tsp ground or minced ginger (optional)
1/2 tsp hot pepper flakes
2 tsp lemon juice

Bowl for marinating, heavy skillet.
METHOD:
RINSE chicken under cold running water, pat dry.
PLACE in bowl w/ other ingredients.
MIX well, marinate for 1/2 - 1 hour.
IN heavy skillet heat oil over medium high heat.
ADD chicken slices.
COOK for 2-3 minutes depending on thickness.
TURN over, cook for a further 2 minutes.
POUR on teriyaki marinade, cook for additional minute, turning once.
FOR sauce: scrape up the bits and pieces.
Serve: goes well with soba noodles and steamed or stir fried broccoli or snow peas.
Cookbook we like:



Copyright © 2000,2012 e-rcps.com, All Rights Reserved