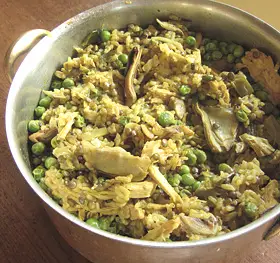 SPICY CHICKEN WITH RICE AND VEGETABLES
Prep Time: Prep:20m; Cook:40 to 50m; Total: 1hr 10m.
Preparation - Easy


Serves 4


By: Lo Chef
Delicious, great for leftover chicken.
3 chicken breasts or 6 drumsticks or a mix of both cut in thin strips or bite size pieces
3 TBS olive or vegetable oil
1 cup rice
1/2 cup dried lentils or 1 can lentils, drained
2 large cloves garlic, crushed
4 scallions, in 1 inch slices
4 cups chicken broth
2 cups Cauliflower, artichoke hearts, peas, mixed or not
1/2 tsp Turmeric
1/2 tsp dry ginger
1 tsp Cumin
Pinch Saffron
1/4 Cayenne Pepper
1 tsp Berberi or Ras El Hanout-Moroccan spice or 1 tsp Paprika and 1/2 tsp Curry powder
1 tsp salt

Covered skillet or wok-type pan.
HEAT oil in large pan (that has a cover).

ADD chicken, garlic, fresh ginger, and scallions and spices, stirring, do not allow to stick to pan.

BROWN lightly over medium heat.

ADD rice and lentils (if using canned lentils add last five minutes).

MIX well with a wooden spoon and let rice absorb some spice and chicken flavor.

ADD chicken broth, stir and cover and simmer over low heat for 15 minutes.

ADD vegetables.

ADD Lentils if canned.

TEST for seasoning, add to taste and cover.

COOK till rice done to desired consistency.

Serve with a tomato salad.
Cookbook we like:



Copyright © 2000,2012 e-rcps.com, All Rights Reserved