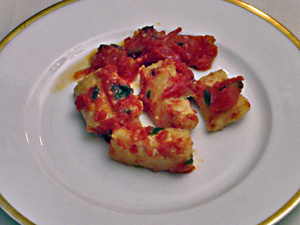 SALT COD WITH SPICY TOMATO SAUCE
Baccala alla Napoletana
Naples - Campania
Preparation - Medium; Prep: 15 - Cook: 1:20
Serves 8
On Fridays in Naples, salt cod is sold already soaked and ready to be cooked. In the markets and fish shops there are large marble sinks full of salt cod, a thin trickle of cold water running over the pieces so the salt is carried away with the water.For this dish, Neapolitans use skinned, bottled tomatoes prepared in the summer.
INGREDIENTS:
2 pounds (900 g) thick salt cod fillets
1 clove garlic, crushed
1 TBS olive oil
1 tsp hot red pepper flakes
2 TBS chopped fresh parsley
2 cans (each 12 ounces; 340 g) Italian plum tomatoes, pureed
1/2 tsp sugar
2 tsp dried oregano
1 cup vegetable oil
All-purpose flour for dredging
Coarse salt and freshly ground pepper

2 skillets, baking dish.
METHOD:
Soak the cod fillets in cold water for 12 hours.
Drain the fillets, put them in a bowl, and place the bowl in the sink under the cold water tap, letting a thin trickle of cold water run over the cod for 5 or 6 hours. Under the water, remove any remaining bones. Cut into 4 x 1 1/2-inch (10 X 4-cm) pieces, then pat dry with paper towels and set aside.
Preheat the oven to 350 degrees F (180 C). Sauté the garlic in the olive oil until golden. Remove the skillet from the fire and add the hot pepper flakes and parsley. Stir, then replace the skillet on the flame. Add the tomatoes, sugar, salt, pepper, and oregano. Simmer 5 minutes and set aside. Remove and discard the garlic.
Heat the vegetable oil in another skillet over moderate heat. When a cube of bread browns in about 1 minute, the oil will be ready. Flour the cod fillets lightly and fry until golden on both sides. Drain on paper towels.
Arrange the cod fillets in a bake-and-serve dish and cover with the tomato sauce. Bake for 20 minutes or until done (flesh flakes easily with fork).
Source:
Italian Cooking in the Grand Tradition
Jo Bettoja and Anna Maria Cornetto
The Dial Press



Copyright © 2000,2012 e-rcps.com, All Rights Reserved