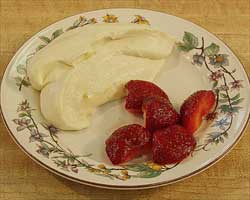 ZABAGLIONE, ZABAIONE
Zabaglione, zabaione, zabajon
Piedmont
Preparation - Easy
Serves 4
4 egg yolks
4 T sugar
8 T of Marsala or white wine.

Double boiler, whisk (ideally)
Mix ingredients.
Bring water to boil in double boiler making sure that the boiling water is not touching upper pot.
Add the egg mixture to the upper pot and beat until thick, light and fluffy.
Cookbook we like:



Copyright © 2000,2012 e-rcps.com, All Rights Reserved