Recipes
Quick & Easy
Pasta
Appetizers
Soups
Main Courses
Salads
Pasta Salads
Risottos
Recipes by Region
Mideast Recipes

Basics
Ingredients
Utensils
Cheeses
Wine

Glossary

FAQ

Cookbooks

Tell a friend



Cooking Classes
Cooking classes in the U.S. and Italy.

---

Gastronomy Tours
Tour Wine & Olive oil country and other regions.
---

Links
Links to other sites of related interest.
---

Sources
Where to buy special ingredients and utensils.
---

Ask the Chef
If you don't find your recipe.
---
<<

PREVIOUS

- BROWSE RECIPES -

NEXT

>>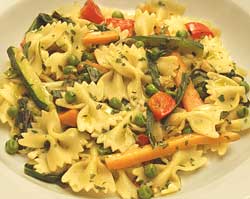 PASTA PRIMAVERA RECIPE
Pasta Primavera
Preparation - Easy
Prep: 30, Cook: 30
Serves 4


Easy to make and tasty. It is also good cold, as a pasta salad.
1 1/2 cups tender carrots finely sliced lengthwise - julienne
1/2 cup fresh shelled green peas or 1/2 cup frozen tender young peas
4 T extra virgin olive oil
1/2 cup thinly sliced spring onions, including green (5 or 6 spring onions)
2 garlic cloves, more to taste, chopped
1 red bell pepper in 1/2" dice
1/4 peperoncino or 1/4 -1/2 tsp chili flakes (optional)
1 1/2 cup baby zucchini sliced lengthwise
1 T fresh parsley, chopped
1 T fresh thyme or oregano, finely chopped (1/2 tsp dry)
1/2 cup canned vegetable broth, hot
1/2 tsp salt, more or less to taste
black pepper, a few grinds
3/4 16oz-package (about 3 cups, dry) farfalle or other flat pasta, cheese tortellini or cheese ravioli
COOK the pasta..

MEANWHILE cook the carrots till just tender, drain and set aside (microwave, covered, with a bit of water for 2 1/2 minutes to steam them).

COOK the peas till just tender, 30 seconds or so, then drain and add to carrots (you can also do these in the microwave).

HEAT oil in a large pan over high heat.

ADD the peperoncino, garlic, scallions, and the zucchini.

REDUCE heat to medium.

SAUTE stirring frequently with a wooden spoon till just tender and light gold in color.

ADD carrots, peas, parsley, herbs, salt and pepper.

SAUTE further for a minute or so.

ADD the hot broth to the pan holding the vegetables.

DRAIN the cooked pasta, reserving some of the cooking water.

ADD the drained pasta to the pan.

TOSS, mixing ingredients well.

SERVE.

Note: Microwaving carrots and peas is an easy way to cook them. You can use reserved pasta water instead of broth for a lighter taste.


<<

PREVIOUS

- BROWSE RECIPES -

NEXT

>>


Copyright © 2000,2012 e-rcps.com, All Rights Reserved